Fibromyalgia (FM) and
Chronic Myofascial Pain And Dysfunction (CMPD)
informational website by Devin J. Starlanyl
Join Devin's Facebook Group: Fibromyalgia, Myofascial Pain and Dysfunction. To find the Facebook informational group, click on https://www.facebook.com/groups/403922832988029/ and find Fibromyalgia, Myofascial Pain and Dysfunction and you will get an entry into the informational group.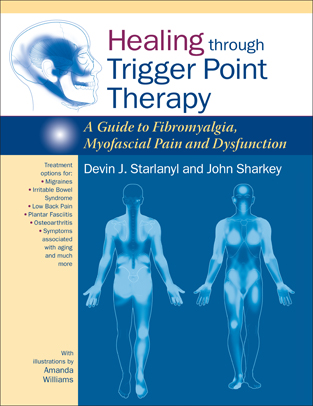 "Healing through Trigger Point Therapy: A Guide to Fibromyalgia, Myofascial Pain and Dysfunction" by Devin J. Starlanyl and John Sharkey, with illustrations by Amanda Williams, is available in both print and e-book format. This book is written in reader-friendly language for patients and care providers, with treatment options for migraines, irritable bowel syndrome, plantar fasciitis, symptoms associated with aging, and much more. The book explains the source of pain and many non-pain symptoms. To see the Table of Contents, click here.
This website contains educational material on two medical conditions that often occur together although they are different: fibromyalgia(FM) and chronic myofascial pain and dysfunction (CMPD), also called myofascial pain syndrome. These are among the most misdiagnosed of conditions. The information presented is referenced with peer-reviewed medical research and medical texts. Any handout or article may be copied for educational purposes if each is copied intact, including source and copyright. One section of the website is written for patients and lay supporters and is written using terms that are easier to understand. The other section is written for medical professionals. There is also a section with handouts in other languages. Volunteer translators who would like to update and expand, contact the webmaster.
Patients and lay supporters start here
Medical Professionals start here.